C.Matic Pneumatic Fittings
C.Matic is an Itilian manufacturer of all metal fittings. The fitting sizes range from 1/8" to 1/2" and varies with the series. Standard NPT fittings are availabla as well as, metric, all stainless fittings, function fittings and safety couplings. C.Matic has a wide range of offerings - contact us for more information.

PN Series - Brass Push-in Fittings
PN is C.Matic's highly performing, extremely compact push-in full metal fitting. Our PN fittings are ready for use as all threads are PTFE pre-applied and no tools are requested to guarantee tight and pressure resistant assemblies. The hose connection is made possible by the presence of a stainless steel gripper and by an O-ring inside of the fitting. To connect, simply push the tubing until it bottoms; the stainless steel teeth grip onto the tubing and holds it captive. The great advantage of our special PTFE coating on threads makes sure that the fitting can be used several times without peeling off. It is a full metal fitting and this makes of it the suitable fitting for the heaviest duty pneumatic applications. See the PN Catalog for more information.

PX Series - Stainless Push-in Fittings
PX is C.Matic's new stainless steel fittings line. Suitable for all those applications where brass nickel-plated and acetal fittings are banned, the new AISI 316L fitting is conceived to withstand corrosive environments (substances), to channel aggressive fluids and to be used in the food, pharmaceutical and chemical industries. PX comes with FPM seals to guarantee the best performance at the highest temperatures. See the PX Catalog for more information.

PE Series - Easy Thread Push-in Fittings
PE is the push-in fittings featured with the so called "easyThread" and made according to C.matic Standards. This thread features allows for connections with different threads standards (NPT, BSPP, BSPT) and leads to greater operational flexibility and inventory cost reduction. See the PE Catalog for more information.

PT Series - DOT Push-In Fittings, Inch/NPT
PT is the push-in fitting series for DOT. Application fields: Pneumatic circuits for truck and Trailers: Air Suspension, Braking Systems, Transmissions, locking doors and windows, Seat adjustment, Instrumenta-tion, Air conditioning systems, horn, wiper motors, valves, cylinders and accessories. See the PT Catalog for more information.

PU Series - Couplings and Multiple Connectors
PU series has a range of coupling and muli-connector fittings. C.Matic single shut off coupler is Industrial Interchangeable and suitable with the most common European plugs profiles. See the PU Catalog for more information.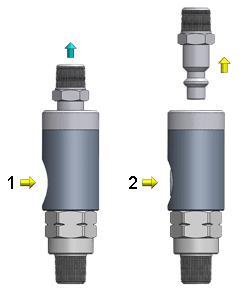 PU Series - Safety Coupler
PU series also includes a new line of safety couplers. The safety couplers are according to US Industrial profile (ISO6150 B-12) and comply with ISO4414 Norm. See the PU Catalog for more information.
PV Series - Function Fittings
The PV series from C.Matic are function fittings which include pilot operated check valve, flow controls, check valves, quick exhaust, slide valves, pneumatic swithces, and mufflers. See C.Matic's main catalog for more information.

PA Series - Accessories
PA is C.Matic's range of accessories, a complement line to the Push-in and the flow control fittings. All metal components are brass nickel-plated.See the PA Catalog for more information.