Filtration
Reducing contamination in a hydraulic system can help prevent against wear of components and therefor extend the life of the system. This reduces production downtime and even lowers overall production cost. Reduction of contamination also reduces environmental pollution. Choosing the right filter contributes significantly to prevent damage and ensures efficiency.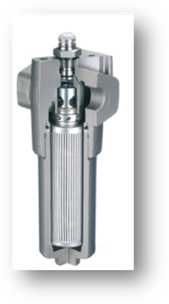 Pressure Filters
Pressure filters are available in high pressure and medium pressure. They are placed behind to pump to clean hydraulic fluid before it flow downstream. This will protect downstream components, such as valve, cylinders, and other actuator, etc. The pump can create eroded particles, which the pressure filter would immediately filter out of the hydraulic oil. A pressure filter needs to withstand the maximum system pressure and loads due to the location by the pump.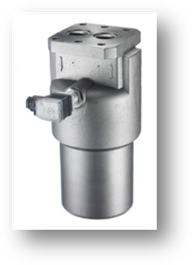 Options And Accessories
Bypass valve – allows unfiltered oil to bypass contaminated element
Reverse flow valve – allows reverse flow through filter head without backflushing
Non-return valve – prevents draining of delivery line during element change
Multi-function valve – bypass, reverse flow capability and non-return valve combined into on valve
Clogging indicator are available in visual, electrical and visual-electrical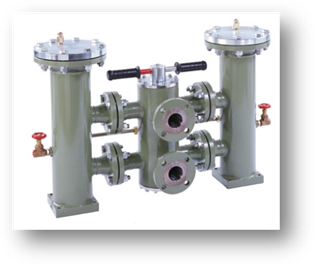 Return-Line Filters
Return-line filters are installed in the return line, on top of or within the oil tank. Their job is to filter hydraulic oil before flowing back into the reservoir. This ensures contamination arising in components does not flow into the tank. It only has to withstand low pressure levels. Return-line filters do not fulfill additional functions of a protection filter
Options and Accessories
Bypass valve, which can be integrated in the filter element
Clogging indicators - differential pressure switch
Other clogging indicators available upon request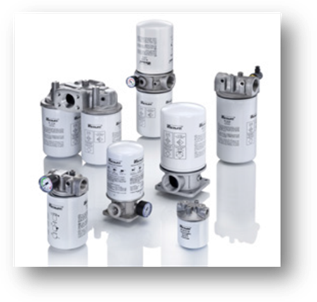 Spin-On Filters
STAUFF offer a range of Spin-On filters that can be used as suction filters or as return line filters for low pressure applications. These filters comply with international standards.
Options and Accessories
Port Connections: BSP, NPT, SAE and other connection available
Clogging indicators – visual or electrical with other indicators available upon request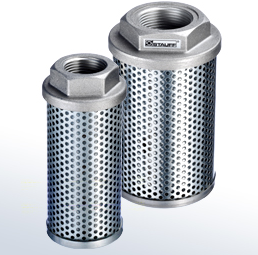 Diffusers
Diffusers are used with return-line filters to ensure the hydraulic oil is settled before reading the oil tank. This prevents foaming and re-suspension of deposited dirt, while reducing fluid aeration and noise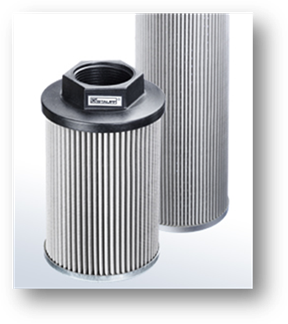 Suction Strainers
Suction Strainers are installed to provide functional protection in the pump. They are installed into suction lines of pumps. If the risk of pump damage, mainly from coarse impurities, is high, then suction strainers should be installed. This risk exists from collected impurities in the tank that cannot be filtered out afterwards. These suction strainers are coarse filters with micron ratings under 100 µm.
Options
Integrated bypass valve with a low operating pressure to reduce the risks of high pressure drops that can be caused by contaminated strainer elements or high-viscosity fluids
Available with female NPT thread or female BSP thread
Special sizes, designs, materials and configurations are available on request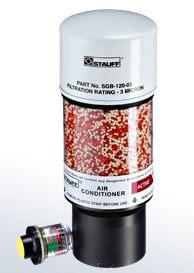 Desiccant Air Breather
Desiccant air breathers are a type of breather that uses special silicate gel to dehumidify the inflowing air. They are a combination of air breather and water removal filters. The replacement of these filters is also dependent on the surrounding conditions. The drying agent changes colors with increasing moisture to show if the agent is active or needs to be replaced.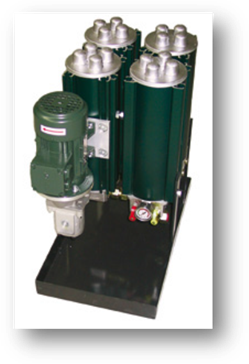 Off-Line Filters
Off-line filters work with an integrated motor/pump unit, which draws in fluid from the system, filters it and then feeds it back into the tank. This filter is independent from the main hydraulic circuit, which means it is can be used to continuous clean the tank. Off-line filters can still operate if the hydraulic system is switched off. They can also be combined with bypass filters for an off-line/bypass filter unit.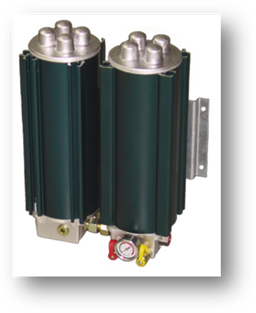 Bypass Filters
Bypass filters use the existing system pressure to draw a small volumetric flow out of the hydraulic system for filtration. These units are only active when the system is running. Bypass lube-oil filters are available for efficient functioning of engine equipment. Bypass filters can be combined with off-line filters. Mobile filtration system is a mobile variant of the bypass filter.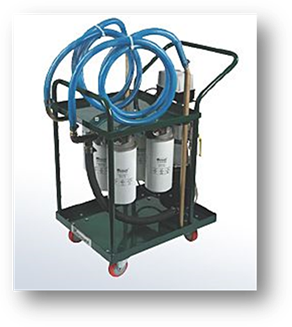 Mobile Filter System
Mobile filtration systems are portable units that can be capable of off-line filtration, bypass filtration, filling or emptying reservoirs or any application requiring the transfer or filtration of hydraulic fluids. Multi stage filtration can be applied to extend element lifetime. They are equipped for quick, easy element replacement.